5 Ways to Design for Greener Digital Signage
Posted on Feb 27, 2020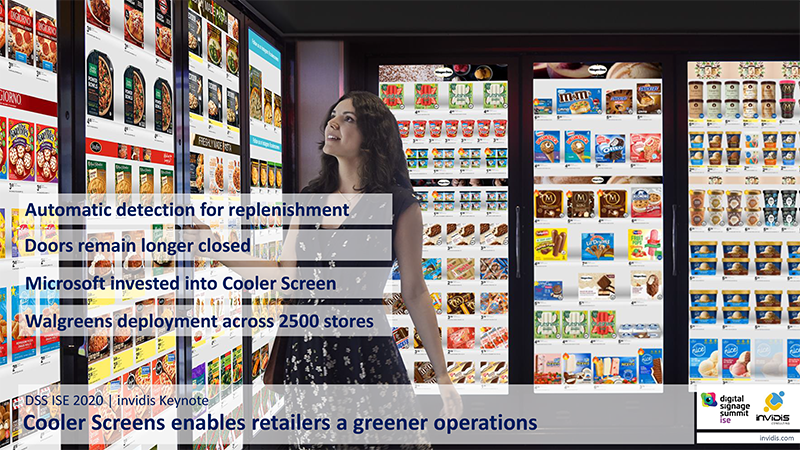 In supermarkets and convenience stores, among the biggest draws on electrical power are those refrigerated cases with the glass doors. Not only does it take valuable energy to keep them cold, but every time a customer opens one, roots through the frozen offerings, reads ingredients, selects one or puts it back, then moves down the aisle to open another refrigerator, valuable cold air is lost and the refrigerator has to work harder to keep cool.
Recently, Microsoft and others invested in a company called Cooler Screens, which makes digital displays that are integrated into those refrigerator doors and display — in vivid detail — the contents. They can also be used for marketing and advertising. Walgreens is reportedly putting the technology in 2,500 stores in the U.S.By some accounts, such digital signage technology can double sales in the refrigerated aisle. But there's a possible side benefit, according to Florian Rotberg, Managing Director of Invidis Consulting. When customers can see clearly what's in one of these refrigerated cases, doors stay closed longer, thereby saving electricity and making the cooler aisle a little more sustainable. Rotberg made the point at the Digital Signage Summit, held during Integrated Systems Europe 2020 in Amsterdam.
"This is the most important topic of today and tomorrow," Rotberg says. "Interest in sustainable digital signage has picked up massively in the past months … especially in Europe where electricity is four times more expensive than it is in the United States."
The industry is at a pivotal point, Rotberg explains. The issue of sustainability has never been more prevalent (Microsoft pledged to be carbon negative in a decade), and demand for more sustainable technology solutions is coming from all corners — customers, employees, retailers, technology providers, etc. "We've been asked by so many companies how they can be more green," Rotberg says. "And it's not about greenwashing; it's about doing things right … having the facts, raising awareness, identifying potential practices and educating the market."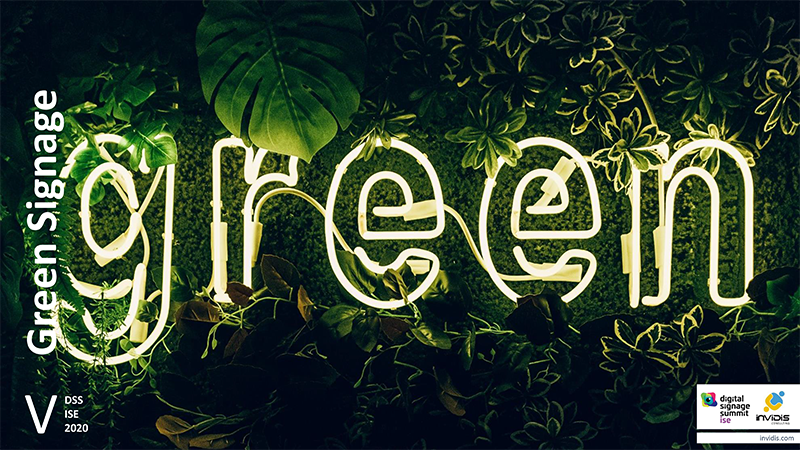 To that end, Invidis has launched its Green Signage Initiative, with first reports scheduled for Digital Signage Summit Europe, July 1-2, in Munich. Invidis will also discuss the subject of green signage at InfoComm 2020 in Las Vegas, June 13-19.
Rotberg says designing for greener digital signage may include many different measures, some easier to implement than others. The low-hanging fruit comprises steps companies can take right away based on technology and features that already exist. Among them:
Don't run signage so bright when it's not necessary.
"When you think of high-brightness screens in store windows, they all have brightness sensors, but the majority are turned off because brands don't like when colors change a little bit," Rotberg says. He also says that thinking is starting to change. His advice: Use existing brightness sensors to help moderate energy consumption by digital signs. In some estimates, going from 100-percent to 70-percent brightness can reduce energy consumption by 20 percent without affecting visual impact.


Turn stuff off (all the way off).
Using existing timers or control system technology, start turning off certain digital signage when no one's looking at it. This could have design implications for store windows or other places where companies might find a dark screen odd, but it can be overcome, or accepted. "Do you really need to run screens at 3 a.m.?" Rotberg asks. "Many companies thought they did because they had an online presence and needed to be seen as open 24/7. That's changing."


Create more sustainable digital signage content.
This one takes some planning, too, but brighter, whiter content requires more power to illuminate. Consider darker shades. When content is transitioning, use dimmer colors as background. Plus, when it comes to motion content, less is more. Fast-moving video content is less energy efficient than slower animation, for example.


Use more energy-efficient digital signage components.
Think in terms of fan-less media players, OPS (open pluggable specification) devices that don't need a separate power supply for driving content, or even just more efficient network infrastructures for delivering content and monitoring signage status and performance. These are technologies that have been around a while, and many digital signage designers already know to specify them. But in the real world, Rotberg says, solutions often aren't designed to be as energy efficient as they could be, especially for outdoor installation.


Pay attention to pixel pitch.
It's physics. The finer the pixel pitch, the more energy an LED display will require. Naturally, many end users like the denser, premium solutions, but certain installations, such as media facades, often don't need them. This is a situation where AV designers can really have a positive impact by taking into account content, viewing distances, and more to help determine the optimal, most sustainable LED technology.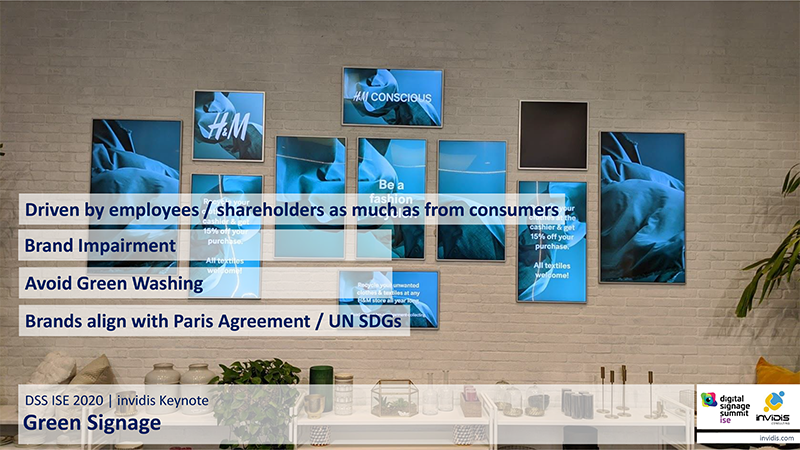 And this scratches the surface. Recycling signage displays and components, using Energy Star and similarly rated products, exploring carbon offsets for signage networks, and utilizing AVIXA's Audiovisual Systems Energy Management standard — these are all other ways companies can create greener digital signage. Many companies active in creating digital signage solutions have signed onto the United Nations' Sustainable Development goals, so awareness is at an all-time high. Down the line, Rotberg says, the industry will need to develop standards everyone can follow, but first things first.
"At this point, it's more evolution than revolution," he says. "How can we take what's bad and make it good?"
Digital signage is a valuable technology tool for helping companies, organizations, and individuals create better outcomes. Digital signage also consumes precious energy and leaves a footprint. Starting with commonsense measures, everyone involved can insist on digital signage designs that help preserve natural resources.
TOPICS IN THIS ARTICLE